jsa005's Profile
"Without stories, we wouldn't be human beings at all. -- Philip Pullman • 09F911029D74E35BD84156C5635688C0"
FIRST NAME
Lauren
MOOD
Enamored
DOING NOW
STATUS
Active
BIRTHDAY
01 Oct 2010
STATUS
GENDER
Female
3DS CODE
5043-5145-7887
SWITCH CODE
(Not set)
NINT NETWK ID
jsatwo
LAST LOGIN
03 Jan 2019
MEMBER SINCE
21 Jul 2010
SAVII POINTS
3213
SAVII BUCKS
1779
jsa005's Biography
jsa
OVERLORD
An SDK veteran and lurkmin.
Administrative roles (#dempowerztho)
Secretary - _ 2015


Blogmin - _ 2016


Everything else - 21 July 2016


Overlord - SOON... (*insert maniacal laugh here*)


VOTE JSA FOR OVERLORD 2016 2017

Buy me shtuf :3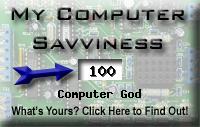 About me...

Heya, I'm an independent wrb dev named Josh (short for Joshua), going under the aliases jsa and kgbsquirrel.
My core principles...

I strongly believe in internet privacy. I really don't think it's right that the governments (yes, in the plural!) of the world snoop on everything we do.


I'm not really very religious, but I'm not atheist either. Go figure. ('agnostic theist' may be the phrase I'm looking for, I'm not sure exactly)


I will always respect and even welcome talk of all beliefs - all I ask is that you don't get in my face about it. (e.g. you will be doomed if you don't do x / submit to y / repent z, etc.)


I'm a feminist. Yes, that's right. Men can be feminists. I could write a long list of reasons why, but this video by Laci Green explains them brilliantly. Please do watch it, it's only 4:50 and quite enlightening. I recommend watching some of her other videos, too.


If you ever need help, feel free to ask. I'll almost always be willing.
(you know it's true)
Badges
Nintendo trademarks and copyrights are properties of Nintendo. Opera is a product of Opera Software ASA. This website is ©2009-2019 HullBreach Studios Ltd. All rights reserved. Members are responsible for their own content. No account information will be given to third-parties.